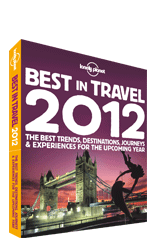 Lonely Planet ranks Myanmar at number 2 position in its
"Best in Travel: top 10 countries for 2012" guide book
Which countries will come into their own as travel destinations in 2012? We've collated hundreds of ideas from everyone at Lonely Planet, including our extended family of travellers, bloggers and tweeters to work out the very best. This list of the top 10 countries for 2012 – in ranked order – was voted for by a panel of inhouse travel experts, based on topicality, excitement, value and that special X-factor.
source: http://www.lonelyplanet.com/europe/travel-tips-and-articles/76856